December is looking to be a great month for Assassin's Creed Origins. We've been getting a massive amount of new content since the game's launch in November, including the Trials of the Gods that has been releasing of late. There are rumors that Sekhmet may be the next Egyptian god to take down, while other news is that the Final Fantasy chocobo may be a new mount available this month.
But I want to look at some Assassin's Creed Origins merchandise that has become available on Amazon through Ubisoft. If you're one of those gamer fans like me who, once obsessed with a game, starts collecting everything associated with it, then you are going to want to check out these new items that have been officially released by the game publisher Ubisoft.
THE ART OF ASSASSIN'S CREED ORIGINS
Mentioned the most in some of Ubisoft's latest tweets, The Art Of Assassin's Creed is the latest official merchandise to hit Amazon's market. And just as the title suggests, it features the art found in the ACO universe, many of which you may not even discover in the game.
Having taken players all the way to the gateway to the modern world in Syndicate, Assassin's Creed once again takes fans on an adventure through history. The Art of Assassin's Creed 7 collates hundreds of concept arts, including sketches, final paintings, and 3D Renders, alongside in-depth commentary from the artists and developers, representing the ultimate insight into the design processes behind the game.
You can pick this hardcover art gallery up for $39.95, although currently it's on sale for $26.60 if you have Amazon Prime. Luckily for us, Ubisoft has shared just a few of the images to tease us with, which I am including right here for you.
Assassin's Creed Origins 2018 Wall Calendar
Haven't had enough of all that artwork? Well, you can get ready for 2018 with this handy Assassin's Creed Origins 2018 Wall Calendar. I've seen what's inside, and indeed some of the stores already have this in stock. The imagery is absolutely amazing and will have you staring at each month for the simple joy of it, if not for anything else.
The universe of Assassin's Creed puts the player in the role of a powerful assassin who fights for a greater cause. The astonishing level of detail and movie-quality graphics set Assassin's Creed apart from any other gaming franchise. Iconic and stunning imagery from Assassin's Creed Origins is now available in calendar form for millions of fans around the world.
The calendar is going for $14.99 on Amazon, but with Prime you can steal it for $10.53. If you want a preview of what's inside, I've got you covered.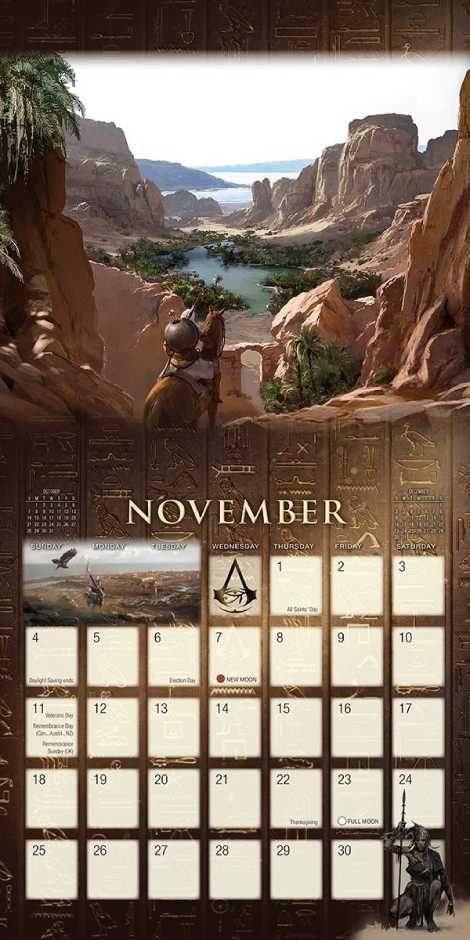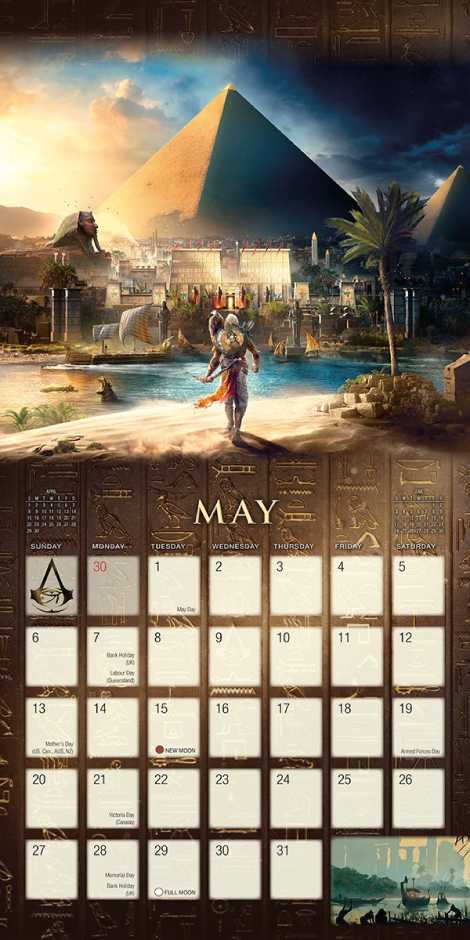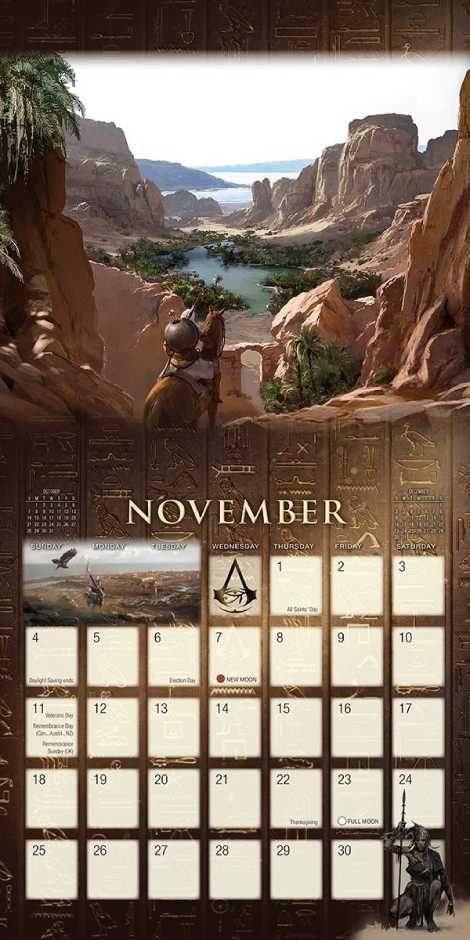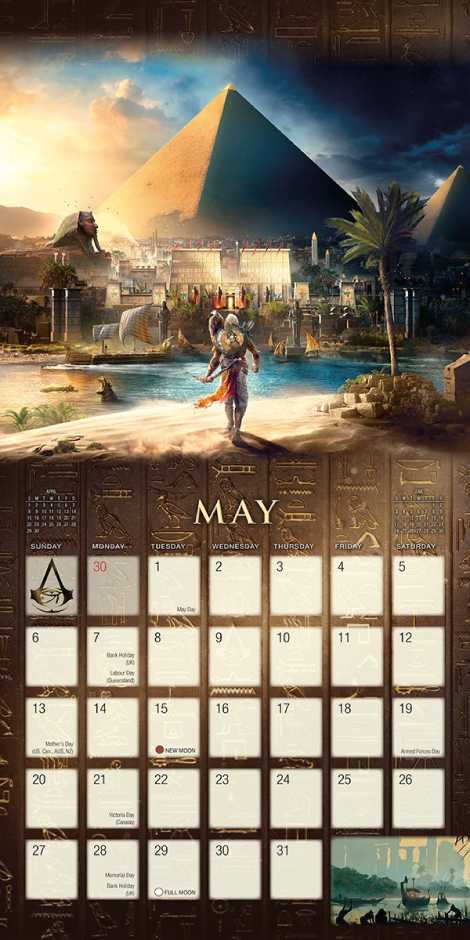 Desert Oath: The Official Prequel to Assassin's Creed Origins
Finally, to a book series that I have been collecting since the first Assassin's Creed game. Oliver Bowden has been a faithful author to the series, releasing a novel with each AC game. And he does not fail as he releases yet another novel, this one as the official prequel to the Origin's story, as approved by Ubisoft.
Travel further back in time than ever before . . . Discover an ancient Egypt on the brink of collapse, and meet the characters in the official prequel to the latest instalment of the bestselling Assassin's Creed video game series. Before Assassin's Creed Origins, there was an Oath. Egypt, 70BC, a merciless killer stalks the land. His mission: to find and destroy the last members of an ancient order, the Medjay - to eradicate the bloodline. In peaceful Siwa, the town's protector abruptly departs, leaving his teenage son, Bayek, with questions about his own future and a sense of purpose he knows he must fulfill. Bayek sets off in search of answers, his journey taking him along the Nile and through an Egypt in turmoil, facing the dangers and the mysteries of the Medjay's path.
You can pick up this paperback novel for $15.87 on Amazon, although I've already seen some local stores stocking them. I will definitely be picking this one up for Christmas.
Have you been collecting any Assassin's Creed Origins merchandise? Will any of the above be part of your next shopping sprees? Let me know in the comments.