HyperX is a name that most gamers are not unfamiliar with. Of course already receiving widespread acclaim for their headsets, we now get to see what they're capable of in the keyboard department. With a slew of mechanical keyboards that are already out on the market, HyperX brings out the Alloy, a straight to the point mechanical keyboard.
Specs and Features
HyperX considers their Alloy their FSP "compact" keyboard which when you compare side by side to most gaming keyboards, it certainly would seem that it has a slimmer profile. Although when I heard compact I immediately imagined it would be a ten keyless keyboard as FPS gamers might. Regardless though the keyboard features all your standard keyboard layouts as well as including the numpad on the side. The configurations of the keyboard switches are Cherry MX Blues, meaning that every keypress is met with a very satisfying and loud audible click.
The Alloy also comes loaded with Red backlighting, 6 LED modes, and 5 brightness levels which can be controlled all on the keyboard along with all media controls. A detachable USB cable is included with an additional USB port for charging only on the keyboard. Two sets of alternative textured keycaps for the standard WASD and 1,2,3,4 keys and of course HyperX is known for their packaging so the whole thing comes with a carrying pouch for LAN parties.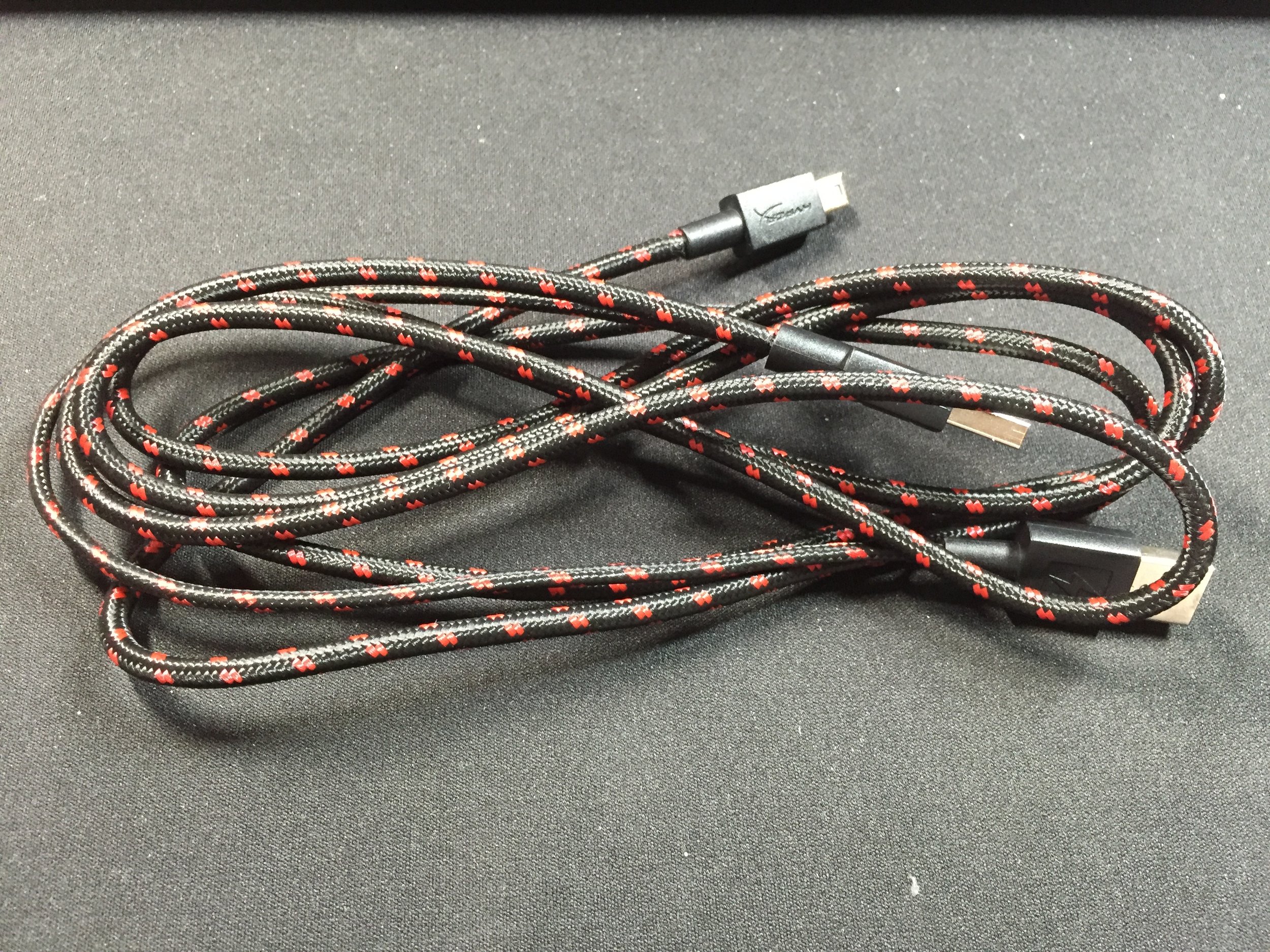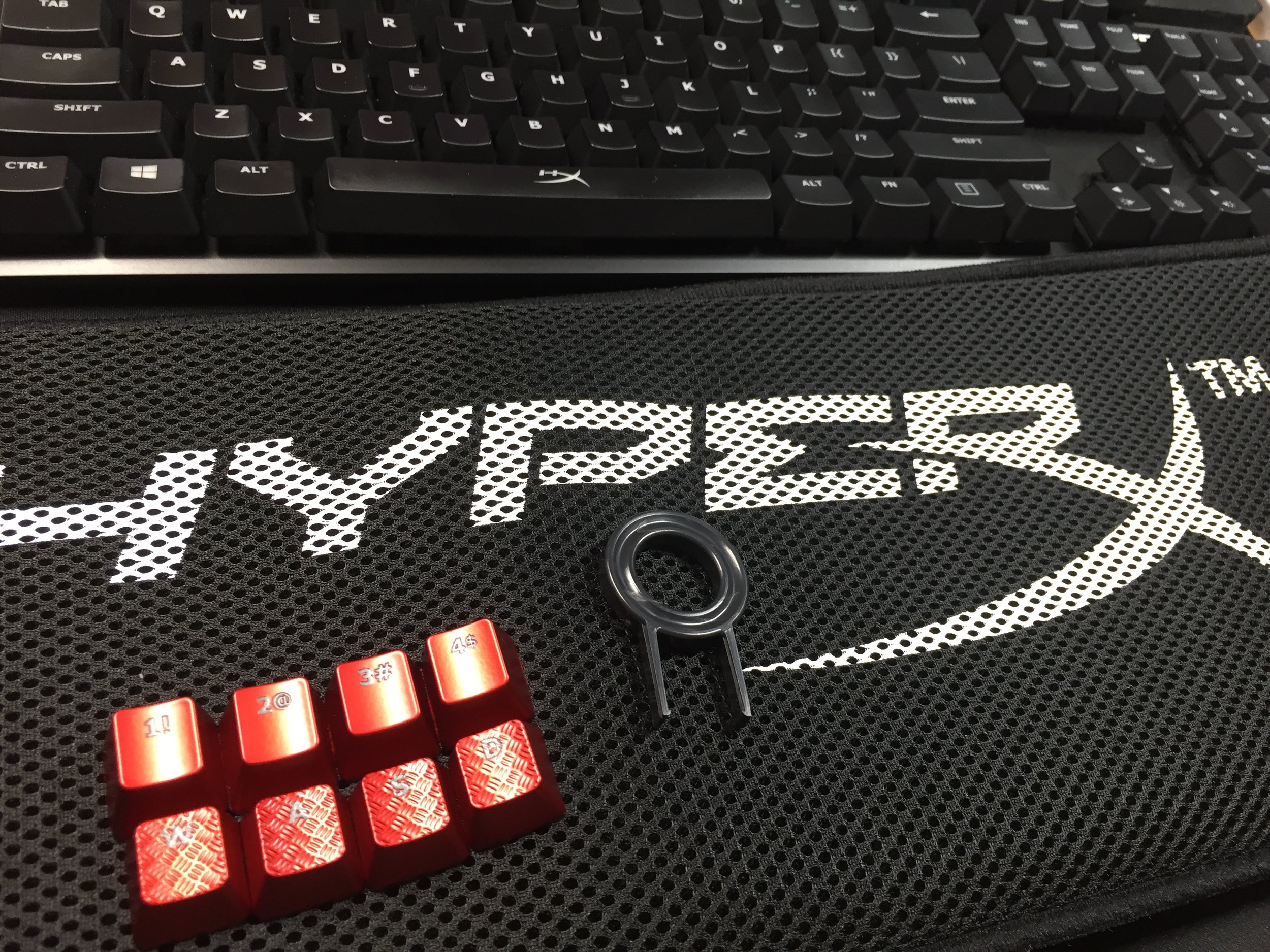 What I like
Although I've had all the Cherry MX switches in the keyboard department, there is something about Alloy's Cherry MX Blues that makes me reminisce the first day I typed on a mechanical keyboard. Each keypress is a satisfying click, and anything I do that requires typing always makes me feel like I'm an elite hacker or the best Starcraft player in the world. The Alloy's also heavy; the sturdy construction of the metal frame reassures you that you can punch your keys in the middle of a match and not worry you're going to have the Alloy fail on you.
The other notable feature is the fact that all the lighting controls are built right into the keyboard. After having a few backlit keyboards, it's a great convenience that everything can be controlled at the tip of my fingertips instead of requiring a program that needs to be installed to program the lighting that I want. While the limitations of 6 modes of lighting are there, at the end of the day, it would cover gamer's needs of showing off a flashy keyboard.
I also really liked the nice carrying pouch that HyperX included, while this keyboard is not going to fall apart or break, I still like to keep my gear taken care of, especially taking it from one LAN event to another.
What I didn't like
Forgive me for semantics, but when I hear "compact" as a description of a gaming keyboard, ESPECIALLY an FPS one, it automatically means Ten Keyless. You see, FPS gamers prefer Tenkeyless keyboards because most FPS gamers don't use the numpad. As a result removing the numpad gives you more space to maneuver your mouse and get those critical headshots. The Alloy still has the numpad attached, which isn't so much a problem to me as it is being advertised as a FPS keyboard. Does it make this any less of keyboard? Definitely not, but realize that this will cater less to the FPS crowd HyperX is marketing to.
I also wished the keyboard came in more switch configurations outside of the Cherry MX Blues, this keyboard is a great piece, and I'm sure others would love it if it came in Browns or Red switches.
Conclusion
All in all, there really wasn't anything technical about the keyboard I didn't like, nothing failed on me and nothing was broken. The only issues I had were literally with the marketing and having more options available, which really is no fault to this awesome keyboard. This is a very straight to point piece of hardware and I've been nothing but happy with it, much to my co-worker's annoyance of the clickety clacks.
Overall if you're looking for a new mechanical keyboard that doesn't enter the realm Tony Stark's budget, the HyperX Alloy is relatively affordable at $99.99